Ashigara Milk co.ltd.
Ishizuka Chemical Sangyo co.,ltd.
Ichibiki co.,ltd.
ITOHAM FOODS Inc.
MK Cheese co.,ltd.
OHSHO FOOD SERVICE CO,. Ltd.
KAGOME CO,. Ltd.
Kanesue co.,ltd.
Kikkoman soyfoods co.,ltd.
green arrows kanto co.,ltd.
Coca Cola East Japan co.,ltd.
Sun House
Sun Recycle Co.,ltd
Japan Farm Co.,ltd
Sugakiya Foods Co.,ltd
U CO-OP

ZENSHO HOLDING Co.,ltd

Takahashi Sauce Co.,ltd
TAKARA SHOYU Co.,Ltd.
Toas Co.,Ltd.
Tokyo Sanyo Plus Co.,Ltd.
Try Company Co.,Ltd.
Nagatanien Co.,Ltd.
Nissan Motor Co., Ltd.
Nissin FD Foods Co., Ltd.
NISSIN FOOD PRODUCTS Co., Ltd.
Nissin Sugar Co., Ltd.
Nissin Foods Co., Ltd.
NISSEI Co.,Ltd.
Nihon Shokken Co.,Ltd.
Nippon Suisan Kaisha, Ltd.
Panasonic Eco Technology Center Co.,ltd.
Fukusuke Kogyo Co.,Ltd
BROOK'S Co., Ltd.
BULL-DOG SAUCE Co., Ltd.
Honda Motor Co., Ltd.
MATSUYA FOODS Co., Ltd.
MARUSAN-AI Co., Ltd.
MARUDAI FOOD Co., Ltd.
Meiji Co., Ltd.
MORINAGA & Co., Ltd.
MONTEUR Co., Ltd.
Yamazaki Baking Co., Ltd.
yamamori Inc.
MEGMILK SNOW BRAND Co.,Ltd.
UNIDELI Co.,Ltd.
LINEX INC.

Robia Co.,Ltd.

Green Planet21(US)
Nestle(US)
Case: ITOHAM FOODS - Toyohashi factory
Installed in the area for waste. They purchased Bun-Sen to clean thaw sheets and plastic bags that wrap meat and recycle them as plastic raw materials. The manager in charge of the environment received an award internally for his achievements in reducing waste and CO2 emissions as well as improving the recycling rate.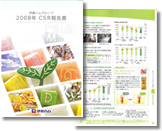 Featured in CSR report of Itoham
Case: Kagome - Kosakai Factory
Installed in the backyard. Bun-Sen was introduced to clean the inner bag of a 200-liter drum can containing the paste that is the raw material for tomato ketchup. As a result, they established their own route to sell them as a valuable recycled resource.
Cost saving = 5.92 million yen:
Disposal costs at 11.3 million yen per year were reduced to 5.3 million yen.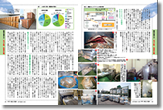 Featured in magazine
"Monthly Food factory manager"
Recycling waste plastic. The Osaka Second Factory has introduced a machine that cleans and crushes plastic containers of raw materials used in the factory. That enables them to improve the recycling rate. The bean jam and cream used at Yamazaki factory are delivered from the raw material manufacturer in a state of being filled in a packaged container so that they use them by squeezing it out. However, the bean jam and cream that cannot be squeezed out remain inside the packaged container, and the material cannot be recycled.
This machine is designed to wash the remaining inside the packages such as bean jam and cream by centrifugal force and water. The machine continues washing them to reach the certain quality needed for material recycling.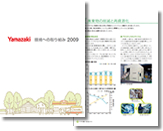 Featured in Yamazaki
Baking's Environmental Report
The Bun-Sen was introduced to clean a petri dish for research, making it possible to recycle it with value. The person in charge said, "I never imagined washing a petri dish that was discarded on a one-day basis in large quantities. What was considered common sense is no longer true."
Midori Dairies Corporation / MARUSAN-AI Co., ltd. / Ashigara Milk co.ltd.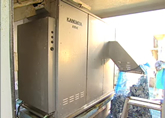 Case: Midori Dairies Corporation
Installed in the backyard. Before they installed Bun-Sen, they had been struggling to deal with milk that generally rots quickly, especially in the summer. However, after the introduction of Bun-Sen, 60,000 packs were able to be washed in about 4 hours with a small amount of water (30 liters/h). In addition, we have conducted a noise countermeasure by installing an insulation box because their location is in a residential area. Cleaned packs are recycled by used paper collectors.
Case: Kagome - Kosakai Factory
Sen-Saw is used to cut the inner bag of a 200-liter drum can containing the paste used as a raw material for tomato ketchup to an appropriate size in the pre-process of cleaning-process with Bun-Sen.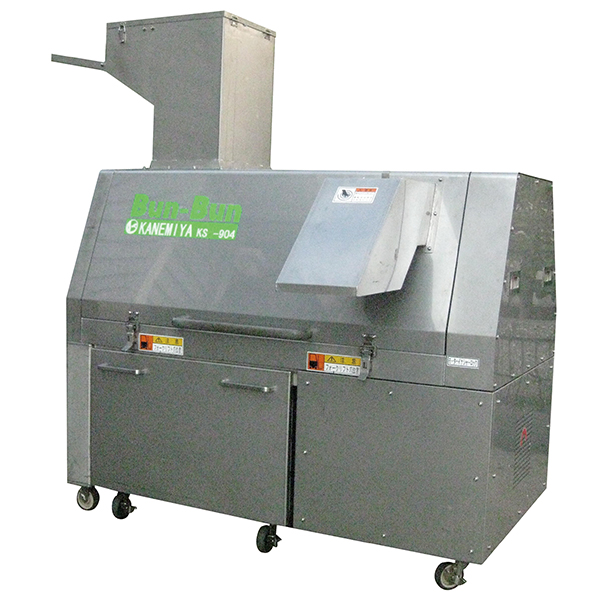 The machine is used for sorting out defective products occurred in the manufacturing process. They used to sort industrial wastes by hand and with certain costs. However, Bun-Bun has made it possible to sort them automatically. As a result, they have achieved cost savings for disposal cost and labor cost.
Candy manufacturers
Seasoning manufacturers
Retort pouch manufacturers
Small packaged pillow source, soy sourse manufacturers etc.
Flour, Tempura flour manufacturers
Sugar manufacturers
Dripped coffee manufacturers
Ice pack manufacturers
It can be sold as valuable material instead of waste by removing the foreign substances adhering to the film and sheet. That enables you to reduce disposal costs and increase profit.

Midori Dairies Corporation / Itoham – Nishinomiya Factory / other 3 companies.
Both of the above two companies are located in areas with strict noise regulations. They solved the strict noise regulations by installing soundproof boxes.